Production has commenced in New Orleans, Louisiana on the feature film adaptation of "The Tell-Tale Heart," inspired by Edgar Allan Poe's well-known short story. Popart Film Factory & Leverage Entertainment are pleased to present the first photograph from set, which hints at the eerie dream world that has been created for this literary thriller.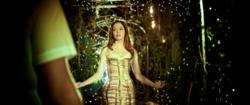 Starring Patrick John Flueger, Rose McGowan and Peter Bogdanovich, this film adds a touch of romance to the suspenseful plot. Also joining the cast is Jacob Vargas ("Devil," "Traffic," "Jarhead") and Damon Whitaker ("Ghost Dog: The Way of the Samurai").
Flueger, most recently seen on the big screen in Paramount Picture's "Footloose," is playing the lead role, and joining him as the female lead is the stunning McGowan, known for her roles in "Grindhouse," "Scream," "Jawbreaker," "The Black Dahlia" and "The Doom Generation," in addition to the popular series "Charmed."
Bogdanovich is playing the iconic one-eyed old man. Esteemed as a director for classics including "Paper Moon," "The Last Picture Show," and "What's Up Doc?," he started out training as an actor under the tutelage of the legendary Stella Adler before making a name for himself as one of Hollywood's great filmmakers.
Director John La Tier has teamed with producer Daniel Zirilli, who has produced and/or directed more than 250 music videos (for artists from The Rolling Stones to Three 6 Mafia) and 20 feature length films, to bring this story to life.
"It has been my goal since the start of this production to stay true to the nefarious world that Edgar Allan Poe creates in all of his stories," says La Tier. "Filming with this cast in the city of New Orleans is truly making this captivating story come to life."
In addition to the first photographs from set, "The Tell-Tale Heart" has launched a Facebook page, which is being updated throughout production with behind-the-scenes videos and photographs at
http://www.facebook.com/TellTaleHeartTheMovie
.
visit
nola411.com
for New Orleans and Gulf Coast news clippings.