Laboratory tests show that globs of oil found on two Louisiana beaches after hurricane Isaac came from the 2010 BP spill.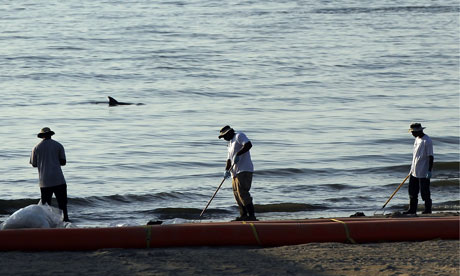 Clean-up workers collect tar balls of oil on a contaminated beach in Grand Isle, Louisiana. Photograph: Spencer Platt/Getty Images
Tests run by Louisiana State University (LSU) for state wildlife officials confirmed that oil found on Elmer's Island and Grand Isle matched the biological fingerprint of the hundreds of millions of gallons of oil that spewed from BP's Macondo well.
On Wednesday, BP said oil from its spill had been exposed by Isaac's waves and that the company would work to clean it up. The spill began after the explosion of the BP-leased drilling rig Deepwater Horizon on the night of April 20, 2010. The blast killed 11 workers and started the nation's worst offshore oil spill. Beaches, marshes and seafood grounds from Louisiana east to Florida were fouled for months.
BP has been running TV ads touting Gulf Coast tourism and urging people to "come on down."
Read more via
The Guardian